Arctic weather and seasons
Inari is located above the Arctic Circle, meaning 24 hours of sun shine in summer and only twilight during winter. During polar night (called kaamos in Finnish) the sun doesn't rise above the horizon, and during the period of Midnight Sun the sun is up for almost two months straight. There is a lot of seasonal variation, and in Lapland, you can enjoy 8 distict seasons:
Spring – Crusty snow and (increasing) sunlight
Early Summer – Departure of the ice and arrival of migrating birds
Summer – Midnight sun
Late Summer – Harvest of wild berries and mushroom
Autumn – Colorful autumn (ruska)
Early Winter – First Snow arrives and lakes freeze
Deep winter – Blue twilight and tranquility (kaamos)
Late Winter - Frosty winter
Temperatures may vary from +30 in the summer to -40 degrees in the winter. Daily average temperature is +14 degrees in July and -12 degrees Celsius in January and February. But actual temperatures may vary from +30 degrees in summer to below -30 degrees in winter. Changing weather and temperatures mean that you have to be prepared for the seasonal variation and dress up accordingly, especially during the cold and dark winter.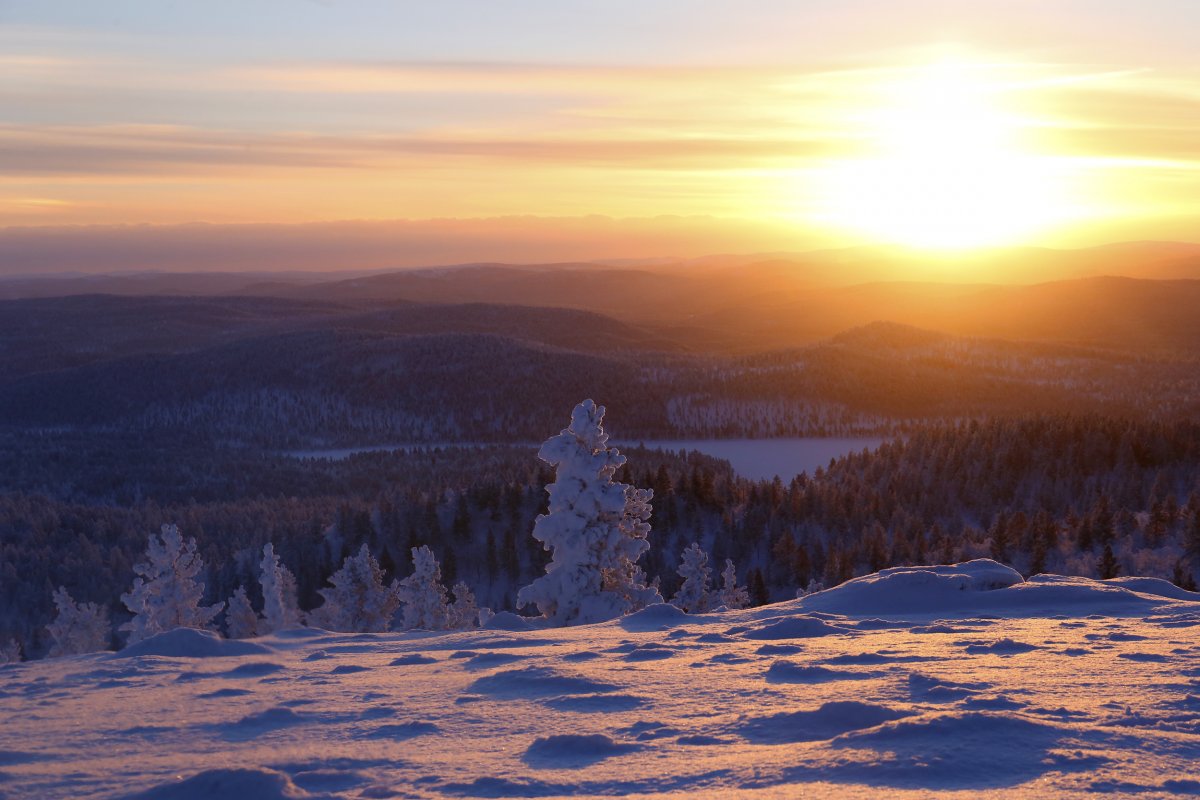 Dress for winter
"There is no such thing as bad weather, only bad clothing", as we say in Finland. The right amount of clothing obviously depends on the temperature and your personal preference - and there is always the possibility to stay indoors and enjoy a hot chocolate next to the fireplace.
Winter is the longest season in Lapland. Thermic winter can last for up to 200 days. Temperatures below -40 °C are possible. Frostbite and hypothermia are therefore real and serious risks when living in Inari. Permanent nerve damage, amputation or death may result. Before heading for the outdoors during winter, you should therefore pay attention to the following:
Warm winter clothing consists of:
a base layer (non-cotton) – to keep your skin dry
a mid layer (warm, non-cotton, e.g. down, fleece or wool) – to insulate you from the cold
a shell layer (wind proof, breathing, ventilation, hood) – to protect you from the wind

The areas that are usually most in risk of frostbite are your extremities and exposed skin. Therefore those areas require special attention.
hands – mittens are better than gloves (base layer wool, fleece or down + wind barrier, e.g. leather)
feet – large enough boots, non-slip sole, warm insoles + warm, non-cotton socks (+ additional heating pads)
nose –balaclava (perform regular checks)
ears – knit cab covering ears + hood for wind protection
Others factors to consider
Wind chill increases risk of frostbite and hypothermia
nicotine decreases blood flow to the extremities
staying active and sufficient nutrition keeps you warm
Please also remember to always keep warm clothing in your car in case of a breakdown. Also, if you're moving outside the illuminated areas, don't forget to carry a headlamp (and some extra battery)!
The clother website offers additional information in interactive format.
Also wach the video (below) made by Inari municipal communication center Viestintäpaja on how to properly dress for arctic winter.

print page