Traffic and transportation in Inari
Inari is the largest municipality in Finland, which also means significant distances when traveling around the area. The good thing is, there are no traffic jams - unless there happens to be a pack of reindeer on the road. Roads in Lapland are generally in a good condition and you can enjoy our beautiful, peaceful scenery along the way. However, arctic conditions can be challenging to an unaccustomed driver and you need to know how to keep yourself and other safe on the road.
Content of the page:
Wildlife on the road

Winter driving

Drinking and driving (don't!)
4. Vehicles
Photo by Kristaps Grundsteins on Unsplash.
Moving around Inari
If you have your own car, it is easy to move around and even though the distances may be long in kilometers, they don't usually take too long. If you're bringing your own car from abroad, check out the next section about importing and using a foreign-registered car in Finland.
Public transport in Inari is limited, but there are some bus companies operating in the area. Always check the available connections beforehand. You can find information about public transport and connections in the municipality's how to get here -page. Taxis are available in all of the villages in Inari and there are also possibilities to rent a car for longer trips and explore more of Lapland.
From Ivalo Airport there are a number of companies including Eskelisen Lapin Linjat who runs transfers to Saariselkä, Kiilopää and Inari; Kuljetusliike Ilmari Slant who operates transfers to Inari; and Matkahuolto wo runs Lapland transfers to Ivalo. During the winter season, the ski bus operates between Ivalo and Saariselkä.
Using a foreign-registered vehicle in Finland
Usually car tax must be paid on all vehicles before they are used in Finland. If you want to register an imported vehicle in Finland you must pay the car tax and take the vehicle to a registration inspection. More information at TRAFI - The Finnish Transport and Communications Agency's website.
If you live permanently abroad and work in Finland, you can on certain conditions use the vehicle exempt from tax for more than 6 months. The extent of the right to tax-exempt use depends on whether the vehicle has been imported for personal use ("tourist vehicle") or whether the vehicle is used for business purposes. If you are staying in two countries, you are advised to apply for a decision under which your permanent place of residence is determined. Temporary tax-exempt use of a vehicle in Finland is permitted on the following conditions:
You have permanent residence in a foreign country.
The vehicle in question is registered outside Finland.
The vehicle is used for a maximum of 6 months during a period of 12 months.
When used in Finland, the vehicle must have motor liability insurance that is valid in Finland.
You have the right of use.
The vehicle in question may not be used by individuals with permanent residence in Finland.
However, other individuals with tourist status may temporarily use the vehicle in Finland on a tax-exempt basis.
If you are arriving in Finland with an intention to work or to stay in this country for more than six months, you should contact the car taxation customer service of the Finnish Tax Administration (tel. +358 29 497 152) to determine the right of use of the vehicle.
When driving in Finland
Everyone in the car must always wear seatbelts
Always drive with your headlights on
Don't use your mobile phone while driving
Children under 1.35m must use a child safety seat
Make sure you have warm clothing in case of emergency.
Don't drive while intoxicated
When traveling in the north, be aware that there could be significant distances between villages and towns, and plan your fuel needs in advance. Always keep your eyes open for unexpected situations, such as reindeers on the road.
Wildlife on the road
Always be prepared for the possibility of reindeer or moose walking on the road. Take note of warning signs indicating wildlife hotspots and reduce speed. It is mandatory to report reindeer collisions to the police.
More information on wildlife hazards at Finnish Road Safety Council's website.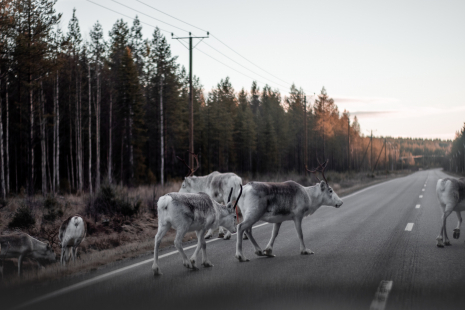 Photo by Joni Rajala on Unsplash.
Winter driving
The winters in Inari are cold and dark. This means that visibility may be poor and the roads are often slippery. Before driving off, clear your vehicle from snow and scrape the ice from the windows. Pre-heating you vehicle reduces the likelihood of windows re-freezing. If you have brought your own car from abroad, you must ensure you have suitable winter tires. Adapt your speed to the driving conditions and remember that breaking distance increases on slippery roads.
Drinking and driving
First rule - Don't drink and drive! In addition to potentially catastrophic consequences to yourself, your loved ones and innocent bystanders, punishment for driving while intoxicated is severe.
Because distances are long and taxies may not be readily available, it is advisable to agree on a dedicated driver before heading to the pub.
Please note, that driving while intoxicated is a crime regardless of whether you drive on or off-road, water or ice. This even applies to un-motorised vehicles if you endanger the safety of others.
You are guilty of driving while intoxicated if your blood alcohol level exceeds 0.05%.
Vehicles
Snowmobiles
To drive a snowmobile, you must be at least 15 years of age and hold at least a T class driving licence. A crash helmet is mandatory for both, the driver and passenger. Driving on roads is generally not allowed. To drive off-road you always need the permission of the land owner. For state owned land the permission must be obtained from Metsähallitus, Ivalontie 10, 99800 Ivalo (Inari). Be aware of thin ice and don't exceed 40 km/h unless you have familiarised yourself with the speed limits.
You can find more information about snow mobiles at Finnish Road Safety Council's website.
All-terrain vehicles – ATVs
ATV's are divided in two categories – off-road and street ATV's. For off-road ATV's you must have at least a B-class licence. There are different regulations concerning the different vehicles, but on the road a helmet is mandatory and for off-road recommended, i.e. common sense. To drive off-road you always need the permission of the land owner. For state owned land the permission must be obtained from Metsähallitus, Ivalontie 10, 99800 Ivalo (Inari).
You can find additional information about ATV vecihles in Finnish Road Safety Council's website.

print page