Project of the International Bike Tourism Destination
Lapland is known globally as an attractive Arctic nature and adventure tourism destination. Together, Lapland's destinations have taken a clear direction towards sustainable and responsible tourism. However, tourism in Lapland is very seasonal. This is clearly evident in Saariselkä as well. In Saariselkä, the number of foreign customers is high during the winter season, but number of arrivals drops during summer. In the winter season 2018, Saariselkä had
199,663 overnights and in summer 60,370 overnights. The number of domestic customers is small compared to international ones and the corresponding figures were 80,344 and 94,417. The purpose of this project is to create new business throughout the snow-free period, to increase the occupancy rate of the accommodation and services and to strengthen the area's vitality by building a year-round destination. Therefore this projects also contributes to the social, ecological and economic sustainability of tourism. Measures are taken at the enterprise, tourist area and municipal level.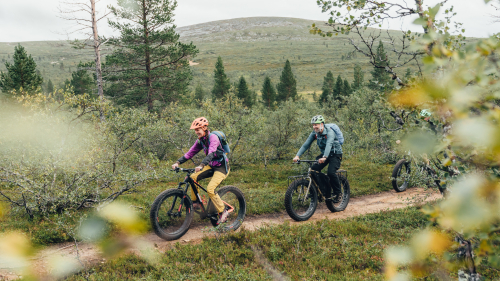 The growth of summer time is strongly influenced by the development of various trails, the infrastructure supporting them (cycling, eg bike parks, pump tracks and technic training areas and trail starting points), as well as the services and products supporting them. In fact, various organizations have invested in Urho Kekkonen National Park trails, mountain biking trails and, for example, downhill skiing opportunities, and some of them have been commercialized.
There is still a lot of work to be done in order to become a succesfull year around destination.
During this project, potential target groups, markets, products and unique selling points will be identified. Based on this, the framework of productisation is defined, products are conceptualized for each selected market area for the different stages of the customer's purchasing path. Existing trail information will be digitized and distributed as widely as possible to potential customers. The project will include media and tour operators fam trips to Saariselkä, and joint
sales visits to potential market areas. The project will carry out market campaigns in selected channels internationally. The rolling action plan allows for continuous evaluation and targeting of measures to just the right measures.
The project is funded by the Regional Council of Lapland. The duration of the project is 2 years 3 months and the budget is 189,000 euros. The project has been prepared in cooperation with companies in the area.
Contact:
Project coordinator Ms. Tuija Laitakari



print page