Housing
Finding a home in Inari is sometimes complicated as there is lack of apartments especially during the peak season. There are also a few things you need to consider in housing that are specific to arctic conditions, such as snow removal and heating. This guide gives you the basic tools to deal with these common problems.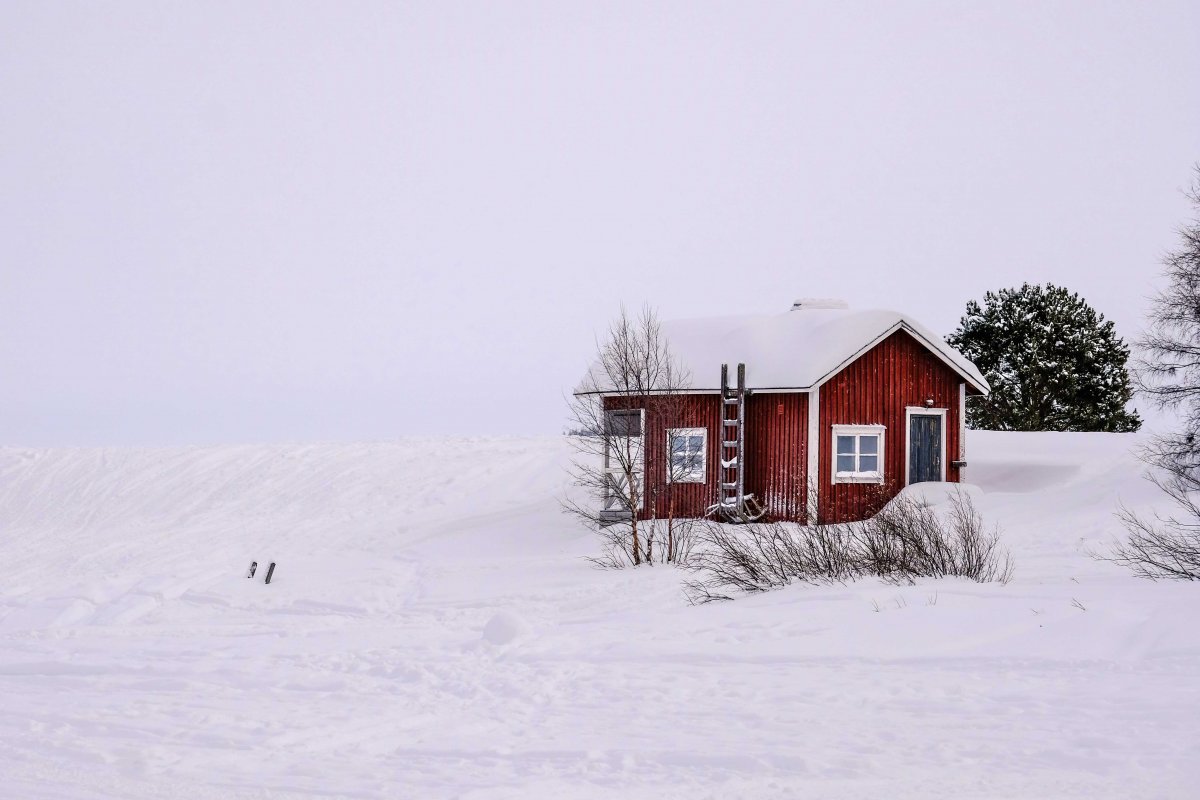 Photo by Francesco Ungaro on Unsplash.
How to find a home
Accommodation is scarce and can be expensive in Inari, especially during the peak season. Many employers arrange accommodation for their staff. Therefore you should check with your potential employer about availability and cost of accommodation before signing your employment contract. When choosing an apartment, take into account additional costs for heating, electricity, water and so forth.
If you're arrangig the accomodation yourself, you have several choices:
Private rental
There are several websites offering rental properties. Amongst the most popular ones are Vuokraovi.com and tori.fi. Of course you may also rely on social media, word of mouth or good old classified ads in our local newspaper - Inarilainen (you can buy the newspaper from local stores). There is also a public Facebook group called "Sodankylä-Inari-Utsjoki alueen vuokra-asunnot" where people can post about rental apartments.
Public rental
Inarin Vuokra-asunnot Oy rents apartments in Inari, Ivalo, Saariselkä, Nellim and Sevettijärvi. Inarin Vuokra-asunnot Oy is part of the Inari municipal enterprise group. Apartments are allocated based on need. If you have signed a work contract with an entity in Inari, please make sure you mention it in your application. You can apply in Inarin Vuokra-asunnot webpage.
Renting an apartment
When you´re renting, make sure that you agree upon the details, such as minimum notice of termination, in a separate lease agreement or work contract if your employer provides accommodation for you. Home insurance is always recommendable and often required by landlords. You may need to make your own contract for electricity and water supply with the local public utility company Inergia.
Buying or building a home
If you intend to purchase a property or second home, you may want to consult one of the websites offering properties for sale, like tori.fi or Etuovi.com or visit the local real estate agent Kiinteistömaailma. When you buy a property in Finland it may be sensible to appoint an estate agent as your consultant, helping you to navigate the peculiarities of purchasing property in Finland, e.g. ensuring that water and electricity connections are included in the property or which transfer tax rate applies.
Before you start looking for a suitable home, check what kind of loan you can get. Your income, savings and the price of the home will affect the loan amount. Get a loan promise in advance.
You can visit the municipality's Housing and construction -page for information about building permits, available plots and other housing issues. You can also read more about Finnish customs for buying a home from InfoFinland-website.
Please note that from the beginning of 2020, buyers from outside the EU and EEA countries need permission from the Finnish Ministry of Defense to buy real estate in Finland. However, a permit is NOT necessary when buying shares in a housing company, which is how most apartments are owned in Finland. You can read more about the permission to non-EU and non-EEA buyers from the Ministry of Defence's webpage.
Utilities (water and electricity)
When you move to Inari you may need to make your own contract for electricity and water supply.
Inergia is a local public utility company, which is operating the electricity grid in large parts of Northern Lapland and water distribution in Inari and Utsjoki municipalities. When you make a contract for the supply of electricity, you have to purchase the distribution from Inergia, who owns the power grid. The actual electric energy you can buy from any Finnish power supplier. Therefor it is sensible to look for the most competitive price among the various power suppliers. There are websites for comparing prices. The most reliable website is the one maintained by the Finnish Energy Authority.
In order to make a contract for electricity and water supply, you need:
the address of the property you intend to move into
your Finnish Personal Identity Code
your id, e.g. passport.
The best way to make a utility supply contract is to visit Inergia's office at Sairaalantie 3A, in 99800 Ivalo. The office is open Monday to Friday from 9am to 3 pm.
Heating with wood
Most houses in Inari have a fireplace. Fireplaces are normally designed for heating or cooking, not purely for enjoyment. Wooden burners are often meant as a secondary heat source, to complement the main heating during cold weather or to provide heating in case of e.g. prolonged electricity outages. There are a few tips and rules to heating with wood that help reduce emissions and prevent accidents.
Carbon monoxide
You cannot see, smell or taste carbon monoxide gas, but it can kill you! Do not, under any circumstance close the chimney valve until the fire is extinct and there is no hot charcoal left inside the firebox. Have the chimney swept at least once a year to prevent sooth or creosote build-up blocking the chimney. Have functioning smoke detectors installed in every room. Carbon monoxide detectors in every room are strongly recommended.
Use dry firewood
Firewood should be logged in spring, when moisture of the wood is naturally low. Drying the wood in well ventilated conditions, protected from rain and ground moisture for at least a year helps reduce moisture further. Carry the firewood indoors the previous day, so the surface can dry overnight.
Preparing the oven
Open the chimney valve (a plate designed to prevent upwards draft inside the chimney when the fireplace is not in use). If the fireplace has not been used for a long time, the chimney is probably damp and cold. In that case, you should dry and pre-heat the chimney by e.g. placing a few candles inside the firebox for a few hours. Next, you empty the firebox from ash and open the air controls of the oven. Before disposing of the ash, make sure it is definitely cold. Use a metal container with a lid and place it safely away from burning material. Remove burning objects and materials in front of the firebox opening. Make sure you have functioning smoke detectors installed in every room. A fire extinguisher or fire blanket are recommended safety items in every household with a fireplace.
Lighting the fire
The cleanest way to ignite the fire is to start putting the larger logs underneath, then smaller ones and finally woodchips or birch bark. Alternatively, you can use other kindling, like a fire starter. If starting a fire seems difficult, you can reverse the order, i.e. put the fire starter first and the large pieces last. This way the fire starts easier, but will produce initially more emissions. Make sure the fire always has enough oxygen.
Do not overheat the fireplace
If heating a fireplace for the first time in a while, heat it gently. If a cold and damp masonry fireplace is heated too quickly, it is likely to develop cracks. Generally, you only ever fill the firebox half to its capacity. If necessary, you refill the firebox only after the wood has burnt to red-hot charcoal. Once the fire has died, you can reduce the airflow to the firebox until all charcoal has burned completely.
The emergency number is 112.
Waste disposal
Lapeco provides waste disposal and recycling services for Inari. It is owned by a consortium of municipalities in Lapland.
All properties in Inari will automatically be charged for their waste management. If you are new in Inari and have acquired a property (recreational or for permanent occupancy), we recommend that you visit the Lapeco office in Ivalo for advise on how to handle your waste and to determine the best waste management plan for you. It is worthwhile to pay Lapeco office a visit, especially if you recycle a lot or otherwise produce little waste.
Lapeco office Ivalo is located here:
Piiskuntie 5 A
99800 Ivalo
Housing companies usually provide a basic container for mixed waste. You are not allowed to take your rubbish to another housing company's waste containers. To protect the environment, sort waste according to its material and take it to the nearest collection point. Do not flush rubbish, food or unneeded chemicals down the toilet. Always take hazardous waste to a proper collection point. The recycling center in Ivalo accepts electronics, furniture and other waste that is not collected in the basic recycling points. Biowaste is not widely collected in Lapland, so in many cases it belongs to mixed waste.
Ivalo recycling center is located here:
Haketie 23
99800 Ivalo
Puh. 0400 121 899
ivalon.ecoasema@lapeco.fi
You can find the location of all shared recycling points at the kierratys.info website. You can type your address to find the closest recycling point to your house.

print page