Cultural services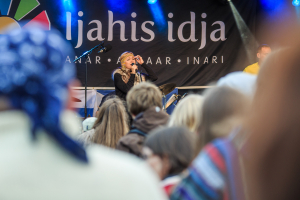 Activities in the multicultural Inari Municipality play a vital role in ensuring the optimum conditions to preserve its different cultures and to save both the material and non-material cultural and spiritual values.
Inari and its traditional events
Since 1974, folk musicians from different parts of Finland and Lapland as well as from the North Calotte have come together for the Ivalon Pelimannipäivät days at the end of July. Since 1987, the annual Lapin Kultaviikko gold week in early August has started at Lemmenjoki river. Inari Day at the end of August is spent discovering the local culture – traditional sacred sites, goldfields and Sámi areas… Since 1981, traditional jazz has featured at Kaamosjazz in Inari on the last weekend in November. Films and documentaries closely associated with the cultures of indigenous peoples have been shown at the Skábmagovat Film Festival at the Sámi Museum Siida in Inari village during the January winter twilight.
Inari and the Sámi culture
Inari is at the heart of Sámi culture in Finland. Representatives of the Sámi cultures in Inari have fostered the advancement of their own cultures and in doing so, they have also promoted the municipality. The Sámi Museum Siida, Sámi Radio, the Saami Parliament and Sámi church all reflect Inari's three rich Sámi cultures.

print page