---
Hockey Night! Please let me know if you want to attend at jan.denks@inari.fi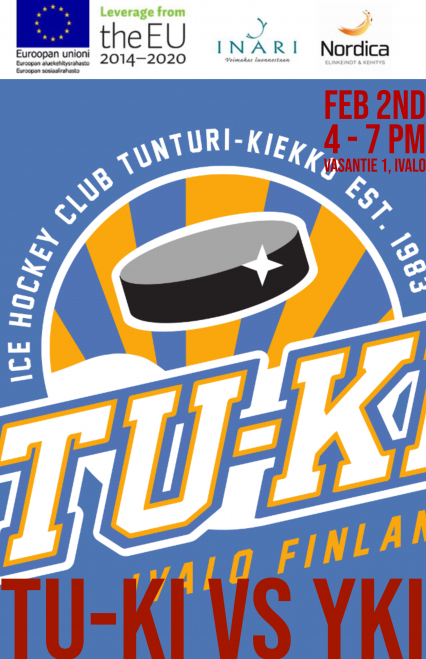 Cross-country ski training in Jänkkävaara
21.1.2020 at 5.30pm
To participate, please send your contact details to jan.denks@inari.fi
You need suitable clothes and a head torch.
If you need skis, please also send me the following details
your height
your weight
your shoe size (large enough to fit warm socks)
Overnight snowshoe hike in UK National Park. February 26th & 27th. If you would like to participate, please send me your contact details by e-mail jan.denks@inari.fi
Aslak - December 1st - 4pm
Sorry we missed you - the new film from director Ken Loach
20 free tickets sponsored by Smoothly into Arctic Life
To participate, please send your name, address and phone number to jan.denks@inari.fi
Ricky and his family have been fighting an uphill struggle against debt since the 2008 financial crash. An opportunity to wrestle back some independence appears with a shiny new van and the chance to run a franchise as a self-employed delivery driver. It's hard work, and his wife's job as a carer is no easier. The family unit is strong but when both are pulled in different directions everything comes to breaking point.
Wednesday November 20th, 10-3pm
Visit to Siida - Sámi Museum & Nature Centre. Maximum number of participants is limited to 18, so please book soon.Transport will be from Saariselkä via Ivalo. If you want to participate, please contact me at jan.denks@inari.fi and send me the names, addresses & phone numbers of the persons you would like to register. Guidance at the museum will be in English.
Spirit of Inari – Inari International Tourism Seminar
Inari International Tourism Seminar on 1 November 2019 at Sámi Cultural Centre Sajos, Inari
The third Spirit of Inari –seminar will soon take place. Welcome to Inari to build networks and to hear current news about tourism industry. This year a group of tour operators from the U.S., Hong Kong, France and Spain will be visiting northern Lapland during the seminar time. Entrepreneurs of Inari-Saariselkä tourism region will have an opportunity to meet them at the workshop on the 31st of October. In the evening there will be a small get-together event open to all companies, and a joint seminar dinner.
The seminar will be held on the 1st of November 8:30-16:30. This year's themes are:
Arctic success stories by entrepreneurs in Finland, Norway, Sweden and RussiaAttraction factors of the North as seen by international professionals, panel discussionHow tourism is being transformed by digitalizationSmoothly into arctic life – making Inari home for international employees, project presentationArctic autumn and new seasons in international marketsFuture trends in tourism
Programme and registration links have been published on this site. The workshop will be arranged by Inari-Saariselkä Tourism Ltd, and other events in co-operation between Inari Municipal Business & Development Nordica and Inari-Saariselkä Tourism Ltd. For further information please contact nordica@inari.fi
We kindly ask you to mark these dates in your calendar. Welcome to the seminar and to the networking events!
Here you can have a look at last year's presentations and pictures The two-day seminar in 2018 provided updates and news from tourism industry in Finland, Norway and Russia, and attracted more than 160 participants. More information here.
---